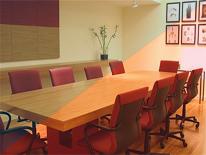 The Public Employee Relations Board responds to all complaints that are filed in accordance with PERB Rules.
1. An initial pleading is properly filed with the Board.  ( A pleading is a formal written statement of a party's claims or defensees to another party's claims in a civil action.  The parties' pleadings in a case define the issues to be adjudicated in the action.)   (See Rule 502) for instructions.
2. The Executive Director processes the initial pleading by reviewing the filing for accuracy and completeness. If filing deficiencies are found, the complainant will have the opportunity to resolve them.  (See Rule 502.7);
3. The opposing parties are notified and allowed to file a response.  
4. Following receipt of a response, the Board may determine that based upon the pleadings, a decision can be rendered, which may sustain the initial filing or dismiss the matter.
5. The Board may also order the parties to submit to mandatory mediation of the matter (See Rule 558.4).
6. A matter not resolved through mediation will continue to be processed, which may result in the case being scheduled for a hearing (A hearing is a proceeding before a court or other decision making body or officer.  A hearing is generally distinguished from trial in that it is usually shorter and less formal.).  A hearing is held according to the Standard Hearing Procedures. The hearing examiner's report and recommendation will be forwarded to the Board. The parties are provided the opportunity to file exceptions to the hearing examiner's report and recommendation. Whether or not exceptions are filed, the Board will issue a decision and order following a review of the hearing examiner's report and recommendation.
7. Voluntary Mediation or settlement of a matter is always encouraged and is offered through the Mediation and Settlement Program. 
8. After a review of all pleadings and related submissions to the Board (which may include a hearings examiner's report and recommendation; briefs or oral argument), a decision and order will be issued to the party representatives.
9. A party may file a motion for reconsideration (A motion for reconsideration is often a prelude to an appeal of a court decision or may be used to contest a vote taken by a government agency or other decision making body.) within ten (14) days of the date the decision and order is issued.
10. The Board renders all decisions on cases forwarded for disposition. The Board's decisions are final. Decisions may be appealed to the District of Columbia Superior Court pursuant to DC Official Code Sections 1-617.13(c) and 1-605.2(12).
Service Contact:
Public Employee Relations Board
Office Hours:
Monday to Friday 8:15 am to 4:45 pm