Ondray T. Harris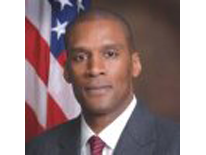 Ondray T. Harris, Esquire, is an attorney with over 12 years of experience practicing law in both the Federal and State arenas.      
Prior to coming to PERB, Harris was nominated by President Bush and confirmed by the United States Senate to serve a four-year term as the Director of the Community Relations Service (CRS) at the US Department of Justice. Before serving as the Director of CRS, Harris served as Deputy Chief of the Employment Litigation Section of the Civil Rights Division at the Department of Justice. In addition, prior to being a Justice Department lawyer, Harris served as a partner at LeClair Ryan. At LeClair, his practice was concentrated exclusively in the area of management-side labor and employment law.  Earlier in his career, he served as an Assistant Attorney General for the Commonwealth of Virginia's Office of the Attorney General. As an Assistant Attorney General, Harris represented the Commonwealth and litigated cases in federal and state courts dealing with Title VII, the First Amendment, as well as other issues. As Assistant Attorney General, he was also counsel for the Virginia Council on Human Rights.
Harris received an Associate of Arts degree in liberal arts, a bachelor's degree in history from Hampden-Sydney College and a Juris Doctorate from Washington & Lee University.